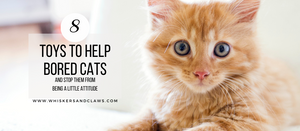 8 Toys to Help Bored Cats
Noticed your cats always getting that attitude? Perhaps she's a little more lethargic than usual or isn't showing her usual interest in her favorite activities. Now, you're wondering about the best toys for bored cats so that you can provide some mental stimulation and ensure your kitty is as active and happy as possible.
Cat lovers know that they have a bored cat on their hands if she exhibits a few different signs. So if your cat is uninterested in normal things like food and toys, a lack of mental stimulation could be to blame. However, this could also signal that there is something physically wrong with your cat, so make sure you're in touch with your veterinarian if you notice any of this behavior going on.
Once you've gotten clearance from the veterinarian and determined that your cat is simply bored, you can find cat toys that will provide her with the entertainment she needs throughout the day. Here are some of the best toys for bored cats.
The smart sensing snake toy has the perfect combination of movement and interactive play needed to give your cat the thrill of the hunt in the safety of your home. Its life-like slithering motion will encourage your cat to engage with it by providing healthy mental and physical stimulation.
This self-rolling ball is designed to engage a cat's natural drive to hunt.  It promotes safe, healthy, and engaging exercise by stimulating the body and mind of your cat. It is designed to eliminate boredom, anxiety, aggression and behavioral issues. 
It keeps your cat entertained with a smart setting that makes the ball move when it is interacted with. When encountering obstacles the ball is equipped with a smart sensor to reverse on its own for endless playtime.
This toy can be perfectly paired with premium catnip to take playtime to the next level. Each fish is perfectly engineered with an on/off switch and is activated by internal sensors to keep your cat engaged in a fun and active playtime.
Maximize your cat's playtime with the interactive moving ball cat toy. This toy grabs your cat's attention by bouncing and sporadically moving on its own. The electric lifting design draws your cat in to play by itself and release pent up energy. 
 
Comes with one wand and ten clip on toys. Change out the toy for a fun variety.
Mind and body exercise

Environmentally friendly and non-toxic


These scratching boards are great for the health and happiness of your cat. It is made of tough materials that naturally removes old material from their claws.
Your cat will adore these unique scratching posts and love that they have something fun to scratch. They come in multiple colors, sizes and designs for you to choose from.
Play with your cat with this unique mouse shaped laser beam. Run them around for a great mind and body workout!
It is visible on most surface including on light colors.
With all these favorite toys, your cat shouldn't be bored anymore. You'll know your cat is up for playing if she seems energized and is pawing at you to play. All you have to do is make sure you get her the best cat toys and spend some quality playtime with her every day to show her she's loved.
---