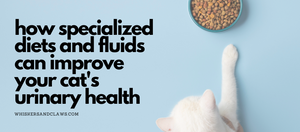 How Specialized Diets and Fluids Can Improve Your Cat's Urinary Health
As pet owners, we strive to provide the best possible care for our feline companions. When it comes to their urinary health, specialized diets and proper hydration play a crucial role. Cats are prone to urinary tract issues such as urinary blockages and urinary tract infections (UTIs), which can cause discomfort and distress. In this blog post, we'll explore how specialized diets and increased fluid intake can significantly improve your cat's urinary health.


The Importance of Specialized Diets
Specialized diets for urinary health in cats can significantly prevent and manage urinary tract issues. These diets promote optimal function and reduce crystal formation risk. Controlled mineral levels, like magnesium, phosphorus, and calcium, maintain a healthy urinary pH and minimize crystal formation. Consult a veterinarian to determine the most appropriate diet for your cat's specific needs and recommend the right formula.


Promoting Hydration for a Healthy Urinary Tract
Proper hydration is key to maintaining a healthy urinary tract in cats. By encouraging your cats to drink more water, you can help dilute their urine and flush out potential toxins, reducing the risk of urinary issues.


Here are some effective ways to promote hydration in your cat:
Fresh Water: Ensure that your cat has access to clean, fresh water at all times. Cats prefer cool, running water, so consider investing in a cat water fountain, which can encourage them to drink more.

Wet Food: Incorporating wet food into your cat's diet can significantly increase its fluid intake. Canned cat food has a higher moisture content than dry kibble, providing hydration while offering essential nutrients.

Multiple Water Sources: Place water bowls in different areas of your home to make it convenient for your cat to find water wherever they are. This accessibility encourages regular drinking throughout the day.

Broth or Water Enhancements: Adding low-sodium broth or water enhancers made for cats can make water more appealing and encourage them to drink more. These flavorings can entice even the pickiest of drinkers.
Remember to monitor your cat's water intake and ensure they're consuming an adequate amount each day. Increased hydration can help prevent urinary tract issues and support overall urinary health.
Consult your veterinarian for personalized urinary health recommendations for your cat. They can identify underlying conditions, determine the most appropriate specialized diet, and ensure overall health. They can also provide recommendations for specialized food and additional measures to support urinary health.
Urinary tract issues can be distressing for both cats and their owners. Fortunately, specialized diets and increased fluid intake can significantly improve your cat's urinary health. By feeding your cat a diet designed to promote urinary health and implementing strategies to encourage hydration, you can reduce the risk of urinary tract issues and support your cat's overall well-being. Remember to consult with your veterinarian for tailored advice and guidance, ensuring that you're taking the best possible steps to maintain your cat's urinary health for years to come.
---